Floors can get dirty, no matter how hard we try to keep them clean. Let's face it, it's what we walk on, so they are bound to get dirty over time. We have to clean them on a regular schedule. In addition to just looking nicer, clean floors add to the value of your home. Kat's Cleaning Service has assembled a few floor cleaning tips and tricks you don't want to miss! 
Solid hardwood
Hard wooden floors are timeless and classic and are comprised of oak, walnut, beech, teak, maple, cherry or ash.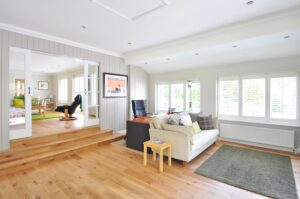 Hardwood floors can come in anything from parquet, strips, solid plank, and even wood that resembles tile in appearance, and can be installed indoors or out.
If you want your hardwood floors to last, you have to give them the proper maintenance. What's the old adage? "It's better to be safe than sorry." Here's some floor cleaning tips and tricks to help with hardwood floor maintenance. Try not to let dust penetrate your hardwood floors if at all possible. Put a mat down in your main entryway to collect dirt and grime. Also, if something spills on hardwood, clean it thoroughly as soon as possible.
An excellent preventative measure is to remove shoes when walking around the house. In addition, install felt pads on the feet of all furniture pieces. And keep your pets' nails trimmed to avoid scratching.
Most wood floors are constructed from solid planks and each reacts differently to cleaning agents. The most important thing to remember is that wood is porous. Thus, in order to preserve the longevity of the wood, they must be treated with lacquer or oil. It is recommended that a pH neutral cleanser be used on wood.
Try to keep your floors clean at all times. Sweep with a soft broom or a mop with microfibers. Do this several times per week. Dust can actually cause scratches, so it is best to keep them swept to avoid damage.
Wet mopping is a great way to keep hardwood clean. A floor mopping hack – just use a damp mop. The wetter the mop, the more risk there is of damaging the finish.
Veneer
Engineered wood flooring (veneer) can be a good alternative to solid hardwood. It is often much less expensive and can be easier to maintain. However, veneer floor cleaning tips and tricks are still important! The materials are less moisture-absorbent and risk of moisture-related problems are less likely. If kept clean, veneer floors are more durable than hardwood.
Because veneer wooden floors are so durable, hard soled shoe wear and tear is not as likely.  But since scratching can still be an issue, furniture feet, animal nails and spills need to be attended to.
For veneer, it is best NOT to wet mop or steam clean. With engineered flooring, moisture can seep into the wood, causing damage and rot.
If you are wanting to restore some shine back into a veneer floor, don't use a wax-based product. Instead, clean with products made especially for engineered flooring. Otherwise, your floor could end up looking quite dull and damaged.
Laminate
Laminate flooring is another excellent alternative to hardwood. Not only is it difficult to detect which is real and which is laminate, but laminate is also much cheaper and easier to care for.
This hardwood substitute flooring is a synthetic product with multiple layers. It actually simulates real hardwood, but with a photograph applique which is made to appear like the real thing.
These floors are generally resistant to denting or scratching. But as with hardwood, a wet mop or steam can damage the laminate.
Try and avoid liquid-based cleaning solutions as a general rule of thumb. Humidity can damage laminate. For regular cleaning, just use a simple microfiber dust mop to remove dust and dirt.
For a thorough clean, use a solution like a bio-home floor cleaner, and dry it right away. Laminate floors can absorb and be damaged by too much moisture and humidity.
Marble and stone
Of course, marble and stone floors are quite beautiful and desirable. Natural stone materials can include marble, limestone, slate, sandstone, and granite.
Marble and stone can be used indoors or outdoors, and they both bring different products and elements into our home. With the different elements also comes a few different floor cleaning tips and tricks. 
Do not use wax on marble or stone. They don't need it, and the added wax build-up isn't necessary. Clean any spills quickly so the liquid does not seep into the product.
Marble floors can become stained when a spill seeps into the pores deep below the surface. If this happens, you will notice that it leaves a spot which is darker than the marble itself.
Cleaning marble and stone flooring is as simple as sweeping dust and dirt into a dustpan on a regular basis. Once you have swept, mopping isn't a bad idea. Stone and marble can also be wet-mopped with a bio cleanser, which is typically plant-based and free of harmful chemicals. 
You can get rid of marble stains by using a soft sponge or cloth with baking soda and water. Rub the stain gently and the stain should disappear. A talc and water mixture is another good way of getting rid of stains.
Polish the marble flooring on a regular basis. Use high quality, low acidic products to avoid etching the stone. Alkaline-based polishes will give your marble and stone an extra high gloss and give extra resistance to abrasion and slippage. Your beautiful marble floors will last much longer if you follow these simple floor cleanings tips and tricks!
Concrete flooring
Concrete floors are becoming very popular, even for interiors. Of course, concrete is made from a combination of pebbles, river rock, stone, and granite.
The good news is that concrete is very hard to scratch. The bad news is that they can chip. If a concrete floor is left untreated, it can dent, scratch, chip and even begin to flake and turn to powder. So it is essential that a concrete floor is sealed above and below the surface. Simple cleaning with a damp mop will clean concrete, and it will prevent mold and ensure durability.
Tile
Tile floors are probably the easiest to clean and maintain, especially if the room is damp and humid like a laundry room or kitchen area. Kat's Clean still
has a few simple tile floor cleaning tips and tricks!
The only caution is the fragility of a piece of tile. They can become scratched, chipped or broken, so it's a good idea to keep a few dozen replacement pieces on hand for repairs. Tiles can be easily cleaned by vacuuming or sweeping. A soft bristle broom works best.
Regular vacuuming, sweeping, and mopping will keep the chore from being overly daunting. Removing stains, like food or drink, is easy with a bio cleaner. Only use the recommended amount of solution so as to not leave a film or residue.
Take pride in your home by keeping your flooring clean and presentable. A few simple preventative measures and your floors will give you a long life.
Kat's Clean always considers eco-friendly methods when cleaning floors by using bio cleaners to help protect our planet and ensure our good health. Contact us for any questions and concerns. Happy Cleaning!